Seemingly every day there is a brand new diet coming out. Some are good, but most of them are ridiculous gimmicks. Eat only meat, eat only vegetables, don't eat anything, only drink liquids. What ever happened to a balanced, simple diet that helped you lose weight?
I propose that there are really two major components to losing weight: reducing calorie intake and increasing your metabolism through exercise. If you do those things you'll lose weight. It's just that simple.
In an effort to simplify things I've created my own super simple diet. It's so simple that literally anyone can do it and it's not even hard. It's a small change, but this simple diet can have a very big impact.
The core concept of this diet is to eat four meals a day, but eat less each meal you eat. What this means is you begin each day with a bigger breakfast, but you end the day with a smaller dinner. That simple change will keep you full throughout the day while cutting overall calorie intake.
Here's how it would work on a normal day. First you get up and eat breakfast of delicious scrambled eggs, two pieces of sausage, and a pancake or a piece of whole wheat toast with real fruit jam(no high fructose corn syrup).
Then at say eleven thirty or noon you can have a sandwich for lunch and perhaps a cup of soup or a piece of fruit. At lunch and throughout the day only have iced tea or water to drink. That will keep your liquid calorie intake down.
Later in the afternoon have a smaller snack at say three o'clock. A frozen dinner or a bowl of soup works well for this snack. Try to keep yourself under four hundred calories for your snack.
Then for dinner eat a small portion of meat and green vegetables. Do what you can to away from white breads and starches. Once you are done eating, only drink water for the rest of the evening. Don't eat a snack because that won't give your body enough time to metabolize your food before you go to sleep and it will turn to fat.
That's all there really is to it. Make sure you are exercising regularly to maximize the benefits of the diet as you would any diet. The best part of this diet is that it requires the least amount of behavior modification of any diet I know of. It cuts your caloric intake without making you feel like you're starving. On this diet you will end up eating one extra meal in the afternoon, but overall you eat less because you're eating more often.

Theme Forest is the largest marketplace of commercial WordPress themes with more than 3,000 WordPress themes available (3,089 themes as of June 2013) from hundreds of different authors. They have theme designs for almost every type of website you can image, from the usual blog, magazine, portfolio and business themes to the more niche application type themes such as church, restaurant, hotel and ecommerce themes.
In this post we list the 10 most popular themes on ThemeForest according to the number of theme sales. It's interesting to note that all of these top selling themes are either business / corporate / CMS, or photography themes. There isn't a single magazine or blogging style theme in the top ten, traditionally two very popular styles in the premium WordPress theme marketplace. While this probably reflects the large number of business and creative type themes compared to other theme styles in the ThemeForest marketplace, it's also a testament to the versatility of the WordPress platform and the wide and varied uses beyond its blogging origin.
As you will see the ten themes below have been purchased by a lot of people! This should mean they are pretty good themes that have been tried, tested and updated to function well. However it probably also indicates some have been around a while, are a bit dated, and might not be the freshest or the best themes available anymore. I will let you decide.
Disclosure: Please note that links to the themes are affiliate links and I will earn a commission if you purchase through those links (at no additional cost to you). This article is for information only and is not a recommendation or endorsement of these themes.
1. U-Design WordPress Theme – 19,263 Sales
U-Design is a powerful WordPress theme pack full of features and customization options. The theme has unlimited color variations, allowing you to set any color to elements such as backgrounds, links, text, menu links, etc completely change the look and feel of your site. It has a widgetized homepage, 6 homepage sliders, over 500 fonts, custom sidebars, unlimited portfolios, page templates, and more.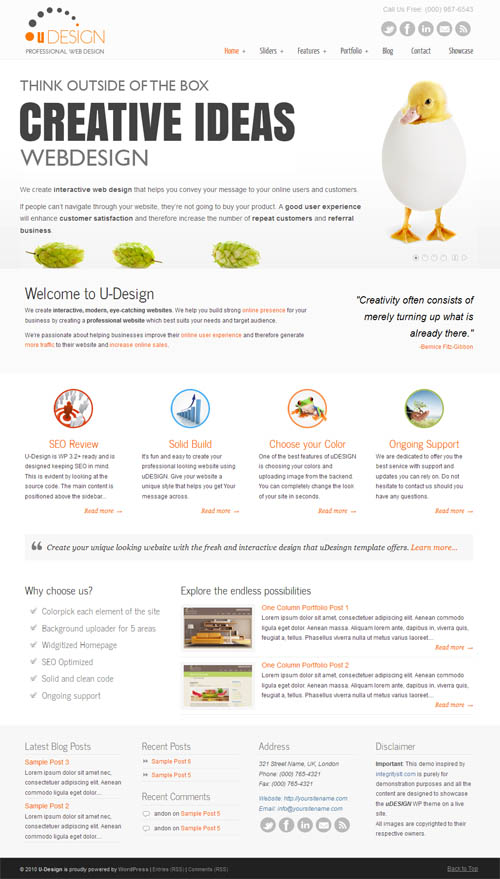 Price: $50 | Demo & Release Page | Download
2. Striking WordPress Theme – 12,371 Sales
Striking is a feature packed corporate and portfolio WordPress theme. It features sliders anywhere you want them, 16 custom widgets, unlimited colors, custom portfolio options, custom background, header, footer etc, heaps of shortcodes, 700+ fonts (Google, Cufon, FontFace) and much more.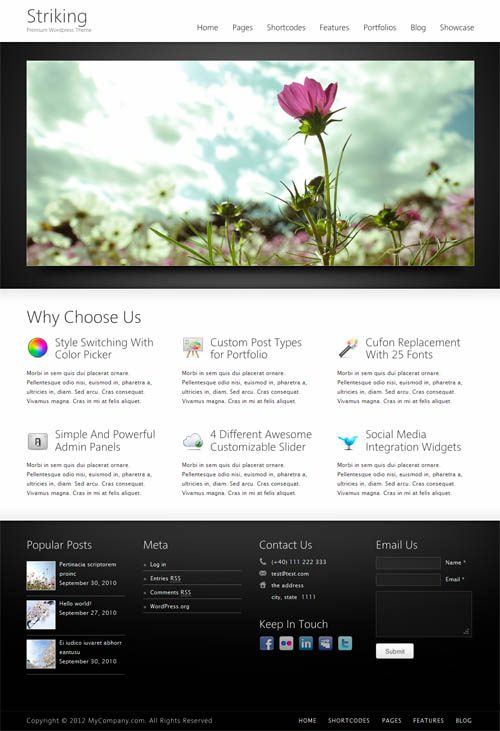 Price: $50 | Demo & Release Page | Download
3. Karama WordPress Theme – 12,029 Sales
Karma is a clean and modern business style WordPress theme. It includes CU3BER 3D slider, exclusive 3D effects, 3D portfolio, intelligent options panel, 20 page layouts, 20 color variations, 100+ shortcodes, pricing tables, unlimited sidebars and more.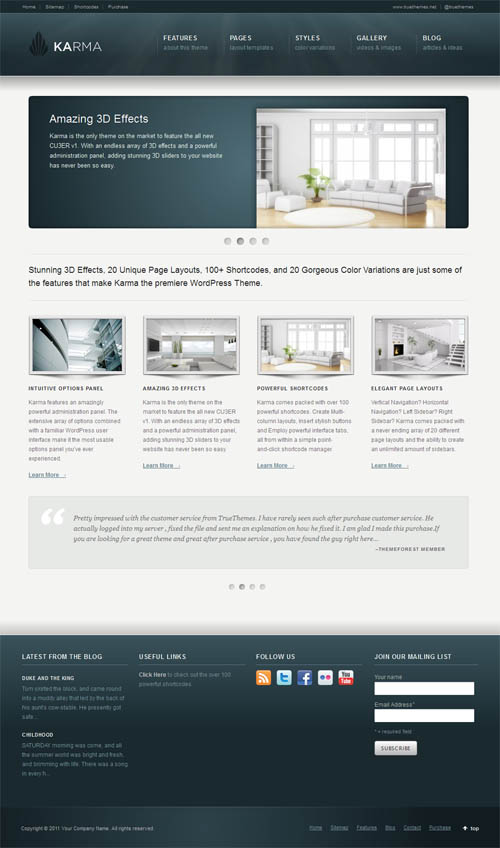 Price: $40 | Demo & Release Page | Download
4. inFocus WordPress Theme – 10,316 Sales
inFocus is a business WordPress theme that has a responsive design. Features include jQuery and Nivo slider, 30+ skins and a built in skinning system, contact form builder, 100+ custom shortcodes, unlimited portfolios in 7 layouts, multiple blog layouts, massive backend options panel and more.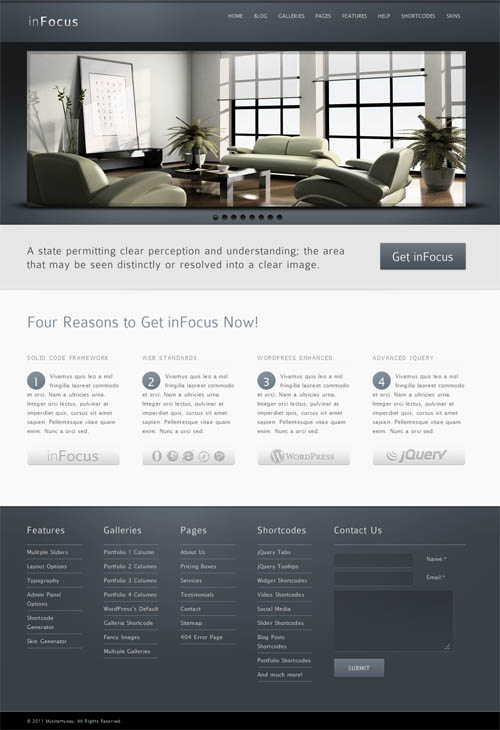 Price: $45 | Demo & Release Page | Download
5. King Size WordPress Theme – 8,113 Sales
King Size is a full screen background WordPress theme focused towards photographers. The highly customisable theme has a variety of options so can can be suited to fit any particular use. It features a full screen slider background for photos or video, 5 different gallery styles, elegant typography, custom admin panel, shortcodes, widgets and more.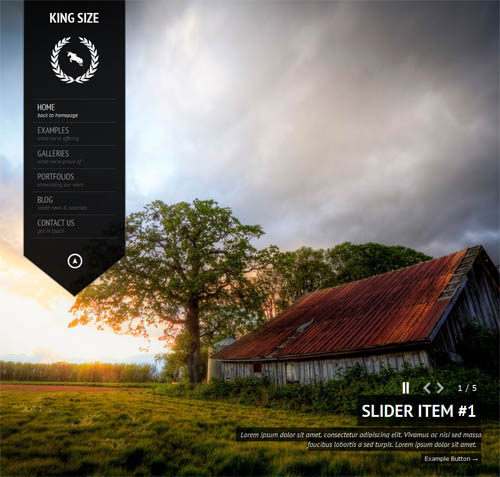 Price: $50 | Demo & Release Page | Download
6. Dandelion WordPress Theme – 7,286 Sales
Dandelion is a powerful business WordPress theme designed to present your products, work and yourself in an elegant and professional style. It features unlimited skins with options to build your own skins from the admin panel with a color picker, 4 featured sliders, 3 flexible portfolio galleries, 32 backgrounds, custom page layouts, powerful admin options panel and more.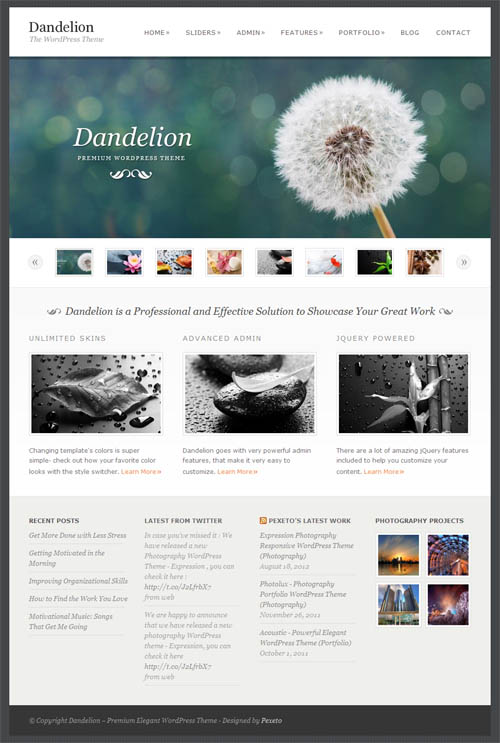 Price: $45 | Demo & Release Page | Download
7. Modernize WordPress Theme – 6,660 Sales
Modernize is a flexible WordPress theme a responsive design (responsiveness is optional). It has a Drag and Drop Page Builder that allows you to create pages easily with a drag and drop module. It has lots of options to change the colors of almost all theme elements, 350+ fonts, unlimited sidebars, easy slider manager with 3 sliders, built in shortcodes, 6 footer layouts, feature rich admin options panel and more.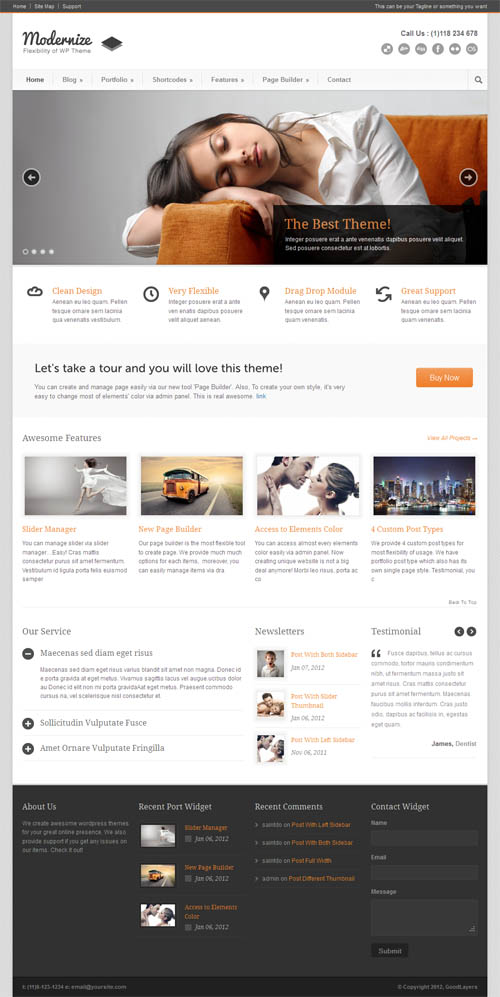 Price: $50 | Demo & Release Page | Download
8. Core WordPress Theme – 6,480 Sales
Core is a minimalist WordPress theme for photography, portfolio and personal websites. Features include a responsive design, 6 portfolio styles, 3 homepage galleries, full screen slideshow for photo galleries, extensive galleries admin, media shortcodes (video, slideshow, image gallery etc.), built in fonts manager and more.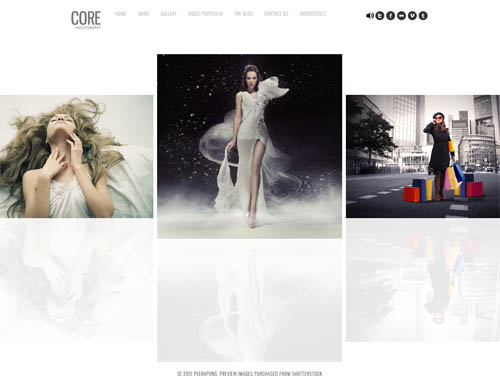 Price: $45 | Demo & Release Page | Download
9. DynamiX WordPress Theme – 6,048 Sales
DynamiX is a versatile WordPress theme with a feature list as long as your arm. It has Buddy Press, BBPress, WooCommerce and WP e-Commerce integration. Other features include a custom skin editor, 5 types of galleries, multiple galleries on a page, image gallery system, various image effects, custom sidebars, custom page layout options, post gallery options, shortcodes and more.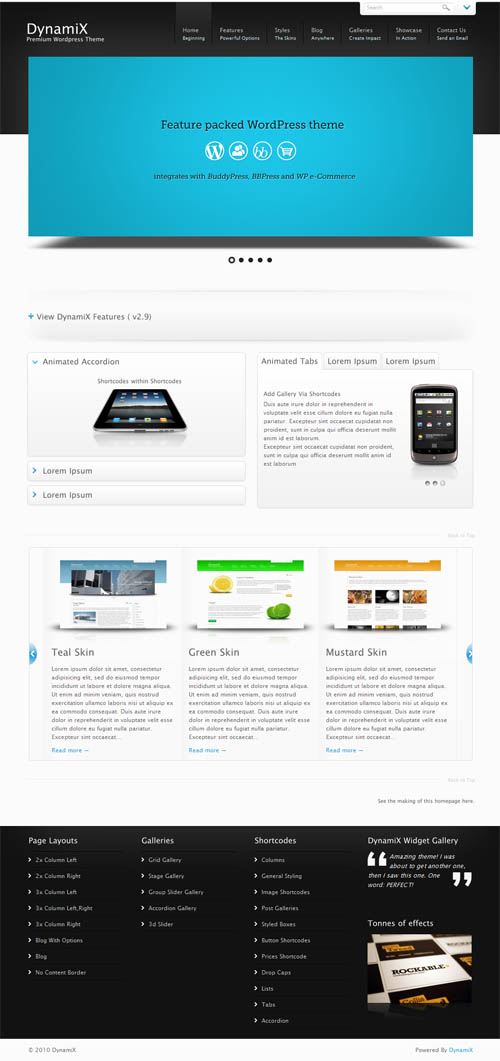 Price: $55 | Demo & Release Page | Download
10. Openhouse WordPress Theme – 5,757 Sales
Openhouse is an advanced, fully featured real estate and car dealership WordPress theme. This is a bundle of two themes. The real estate version includes a very powerful and flexible multi level search, where you can search by location, number of baths, beds, max price, min price, and property type. Some of the other features include like search results "Google Map", "Compare", "Google Street View", a fully featured loan calculator, theme options, unlimited colour scheme choice, dual agent support, 3 homepage layouts and more. The Automotive theme version includes all the same great features but tailored for a car dealership website.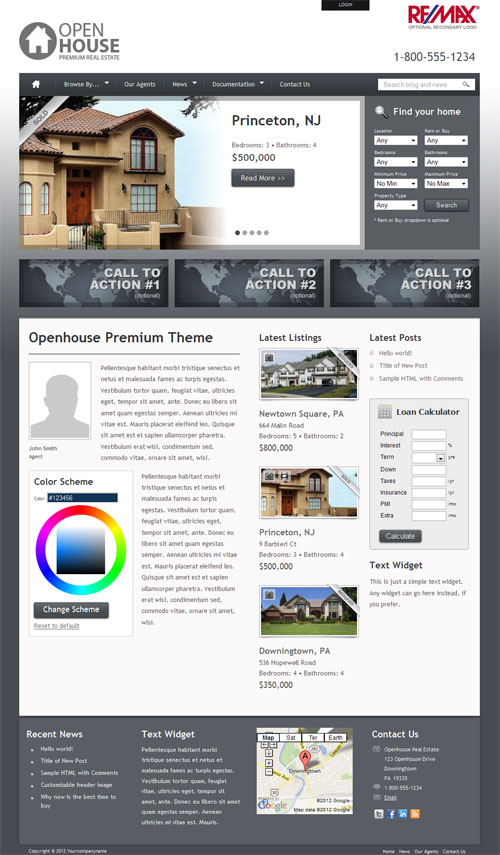 Price: $50 | Demo & Release Page | Download
While the themes listed above are a bit dated now and not that great, ThemeForest has thousands of excellent WordPress themes worth checking out